his page is a guide for using the "VGN ticket machine" to get a train ticket from Nürnberg to Bamberg. Note that with these tickets you are not allowed to use the fast trains (ICE).
Further on, the ticket machine does not accept your credit card, although it says so! Your Maestro card is, however, accepted.
When you arrive at Nürnberg airport, an ATM is located at your right:
Outside the main building the ticket machine is hidden here: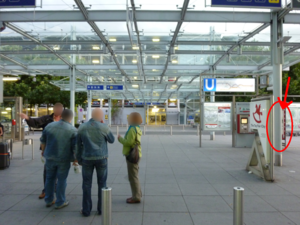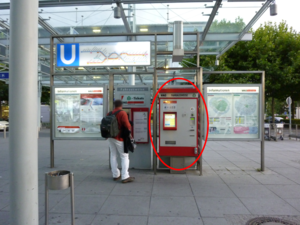 Be careful to use the machine on the right, not the one on the left. If you are only one person, you can buy a single ticket ("Einzelfahrkarte", 10.50 EUR). If you are two persons, you can also take the "TagesTicket Plus" (17.50 EUR) which is valid for two persons. In this case, select the lower button marked in red. The following steps are in principle the same.
To go to Bamberg, you need a ticket for the whole VGN, which means you have to buy a price category 10 ticket.
After you have selected the price category, you are asked to pay. A single ticket ("Einzelfahrt") is 10.50 EUR, while a ticket for two persons ("TagesTicket Plus") is 17.50 EUR.
Please note again, that the ticket machine does not accept your credit card, while a Maestro card works!