Vela X-1

Other names: 4U 0900-40 (Simbad, [1])
Monitoring data: CGRO/BATSE RXTE/ASM Swift/BAT MAXI Fermi/GBM pulsed flux Fermi/GBM occultation
Coordinates
RA 09h 02' 06.86" , DEC -40° 33' 16."
RA 135.528583deg , DEC -40.554694deg
l 263.06 , b 3.93
Binary system
Distance: 1.9±0.2 kpc ([2])
Orbit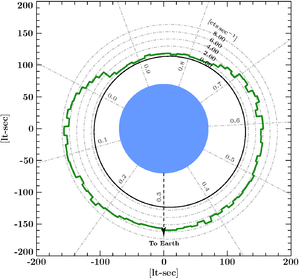 | Parameter | Value | Unit | Reference |
| --- | --- | --- | --- |
| Porb | 8.964357(29) | days | [3] |
| T90 | 2452974.501(12) | JD | [3] |
| a sin i | 113.98(35) | lt-sec | [4] |
| e | 0.0885(25) | | [4] |
| omega | 150.6(18) | deg | [4] |
| i | 78.8±1.2 | deg | [5] |
The figure to the right shows the orbit and the average RXTE/ASM lightcurve in green.
Optical Companion
Names: HD 77581, GP Vel
| Parameter | Value | Unit | Reference |
| --- | --- | --- | --- |
| Mopt | 24.00±0.037 | M⊙ | [5] |
| Ropt | 31.28±0.28 | R⊙ | [5] |
| V | 6.926 | | |
| K | 5.596 | | 2MASS |
Available data
ASCA: 3 observations in 1993 and 1995
RXTE: many different observations between 1996 and 2008
Chandra: 4 observations in 2001 and 2002
XMM Newton: One full orbit (~100 ks) in 2005
BeppoSAX: 5 observations in 1996 & 1997
INTEGRAL: various observations as part of Vela region
Swift: 4 short XRT exposures in 2005
Suzaku: 1 long exposure in 2008
Description
Vela X-1 is an eclipsing high mass X-ray binary consisting of the B0.5Ib super giant HD77581 and a neutron star with a mass estimated as 1.77±0.08 M⊙ ([5]), the highest well-determined such value. Due to the small separation of the binary system with an orbital radius of just 1.7R★, the neutron star is deeply embedded in the dense stellar wind (Mdot = 4×10−6 M⊙ yr−1 [2]) of the companion, making Vela X-1 an archetypical wind-accreting system. X-ray lines show that the stellar wind is inhomogeneous with many dense clumps ([6]) being embedded in a much thinner, highly ionized component ([7]).
Flux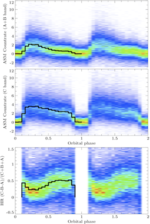 Vela X-1 is a persistent source, with irregular flux variations, sometimes strong flares and off-states not related to the eclipses ([3]), indicating rather inhomogenous, clumpy accretion. Fürst et al. ([8], [9]) analyzed Integral data in detail and found a log-normal distribution of the intensity, ranging from an average flux level of ∼300 mCrab to >2 Crab.
The averaged countrate of Vela X-1 over the binary orbit in the classical X-ray band (2-10 keV) shows a strong orbital modulation, which can be explained by slowly increased absorption towards later orbital phases (see, e.g., Fig.4 in [9]). For individual orbits there is not necessarily a smooth change in absorption, but strong variations not easily connected to possible structures in the wind.
Spectrum
The X-ray spectrum of Vela X-1 is usually modeled with a power law modified at higher energies by an exponential cutoff and at lower energies by strongly varying photoelectric absorption at lower energies, as well as an iron fluorescence line and occasionally an iron edge at 7.27 keV ([2]).
Cyclotron line features at ~25 keV and ~50 keV have been observed by various satellites (e.g., [10]).
Pulse Period evolution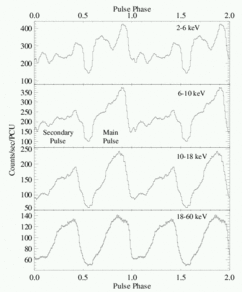 The evolution of the spin period is most appropriately described by a random walk model ([(Tsunemi89)]), see also the Fermi/GBM data.
Pulse Profile
At energies below 5 keV, the pulse profile consists of a complex five-peaked structure, which transforms at energies above 20 keV into a simple double-peaked pulse profile ([11]).
References
↑ Cite error: Invalid <ref> tag; no text was provided for refs named Chodil67a
↑ Cite error: Invalid <ref> tag; no text was provided for refs named Oskinova08a
↑ Cite error: Invalid <ref> tag; no text was provided for refs named Sako99
↑ Cite error: Invalid <ref> tag; no text was provided for refs named Fuerst08a
↑ Cite error: Invalid <ref> tag; no text was provided for refs named Kreykenbohm02
↑ Cite error: Invalid <ref> tag; no text was provided for refs named Raubenheimer90